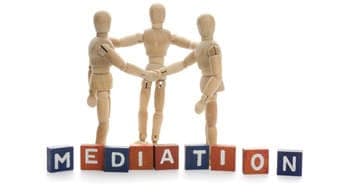 On Tuesday April 10, 2018, the lawyers at Haug & Farrar resolved a workers comp claim for six figures after a mediation. A mediation in a workers comp case is where the injured worker, his/her lawyer, the employer/insurance company's lawyer, an adjuster for the insurance company, and a mediator sit down in one office for a number of hours and attempt to resolve an entire dispute and reach a settlement. This typically takes at least a few hours but usually no more than half a day.
The mediator is a neutral lawyer with vast experience in workers comp whose goal is to help the parties settle the case. The mediators' job is to help facilitate a settlement by making the injured worker and the insurance company realize the strengths and weaknesses of their cases. The parties typically open the mediation in the same room but then break out into "caucuses" in separate rooms. The mediator then communicates settlement offers back and forth and gives the parties insight into what the other sides' position is or what the mediator believes the case may settle for. The ultimate goal for the mediator is to make the parties meet in the middle and reach a settlement. Here are the facts on why a mediation might be your best option if you were injured on the job and have a workers comp claim:
Workers comp cases often take years to resolve. The injury happens, you have to treat with doctors until you are released. If the insurance company won't make a reasonable settlement offer, you have to set the matter for trial. If you get a good result at trial the insurance company will likely appeal. The appeal goes to the Mississippi Workers' Compensation Commission. Depending on how the Commission rules, the case could be appealed again from the Commission to the Mississippi Supreme Court. The Mississippi Supreme Court will likely send the case to the Mississippi Court of Appeals. The Court of Appeals will likely take 9 months to a year to rule on the case. Therefore, the entire process from injury to appellate court ruling could take 3-5 years.
In the settlement that our Gulfport injury attorneys reached on Tuesday, the claimant was injured in 2016. He finished treating in 2017. The entire case was resolved in 2018 for a figure that is likely more than a judge would have awarded at trial. That is the beauty of settling a workers comp case at mediation.
Call us today if you sustained a serious injury on the job. Our workers comp lawyers represent injured workers across the Mississippi Gulf Coast including but not limited to Bay St. Louis, Gulfport, Biloxi, Ocean Springs, Gautier, and Pascagoula.